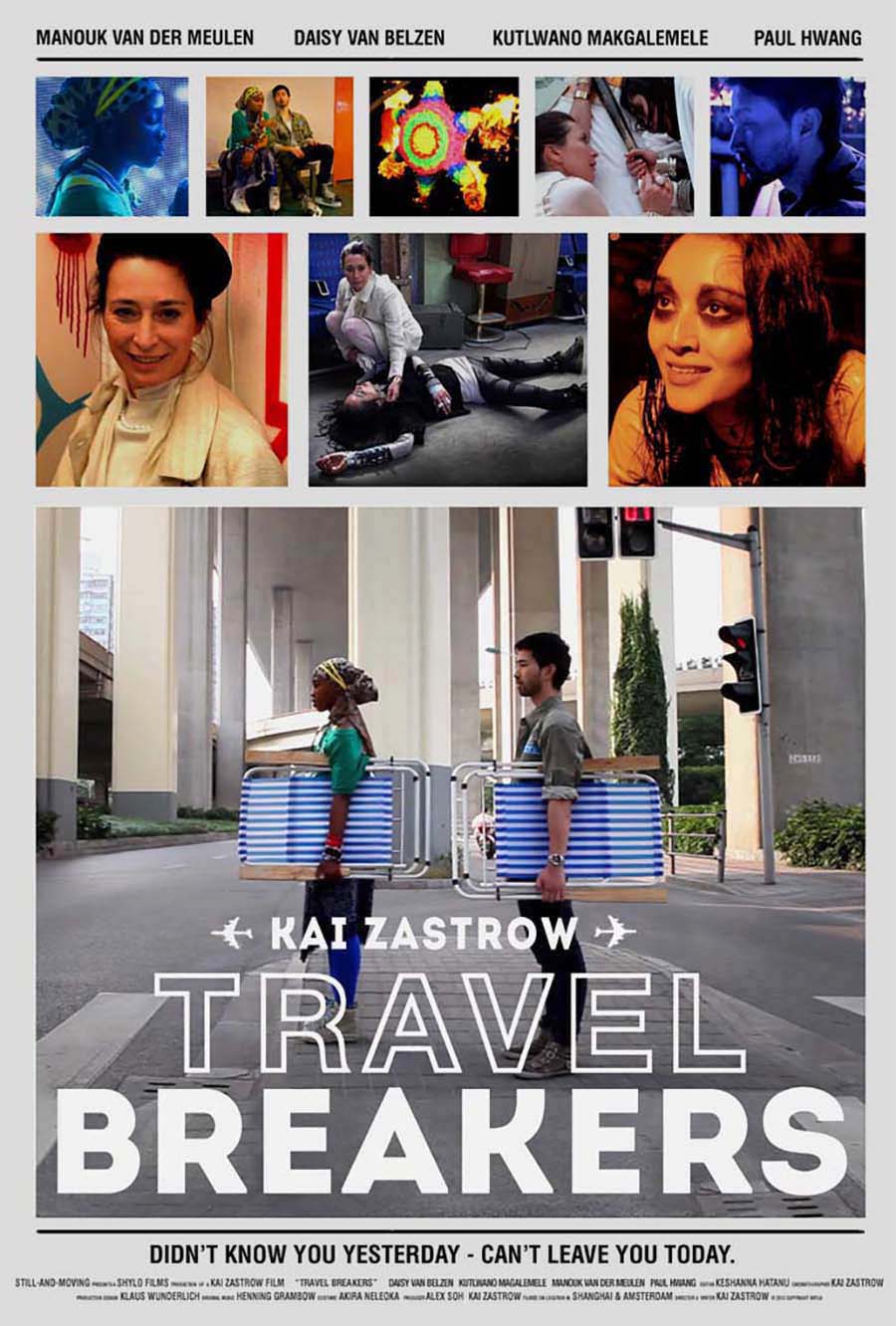 Feature Film: Romance, Road movie
Directed and Written by: Kai Zastrow
Starring: Kutlwano Makgalemele, Paul Hwang,
Manouk van der Meulen, Daisy van Belzen.
Music: Henning Grambow
Length: 89 min.

Language: English

Release: Digital Cable and On Demand


After their planes got canceled a teenage slacker girl and an elegant woman meet by chance and form an odd couple forced to stay overnight in Amsterdam. The two strangers find in each other mother and daughter feelings they never had before. Meanwhile delayed planes in Shanghai let a student girl from Soweto and a Los Angeles gamer find the soul mate sibling they missed all their lives. Will they leave the next morning with their rescheduled planes or stay together?
From around the globe lived director Kai Zastrow comes an international saga about the surprising and restless times when our daily lives get interrupted. Traveling, cancelled flights, an airline hotel coupon and the question what to do in this in between time?
After both their planes got cancelled Wei Wei (Daisy van Belzen) an indonesian slacker girl and Katherina (Manouk van der Meulen) an elegant woman from Sweden are forced to layover for a night in Amsterdam. Katherina reminds Wei Wei on her mother she had to leave years ago. Wei Wei starts following the woman. Katherina lacks patience for a random stranger like Wei Wei, but after a while she gives in and they head together from the airport hotel towards the city. Getting lost in the red light district and the night bars they discover that always when you don't expect it, the things happen that turn your life around.

At the same time over 10.000 kilometers eastwards in Shanghai. After their flights also got cancelled TT (Kutlwano Makgalemele) an exchange student from Soweto, South Africa meets in the hotel shuttle bus Ray (Paul Hwang) a Los Angeles vidoegamer. Stuck for a day and a night they buy some camping chairs and discover the amazing bustling metropolis Shanghai from a front row seat. Wherever they decide to camp out they watch, drink and talk about, if they would ever find someone out there in the million city who understands them? Slowly they realize the one person they looking for already sits next to them and is supposed to leave the next morning.

Director and writer Kai Zastrow unleashes a fast and furious firework of opposing people, cultures clashing and examines the sights, sounds and sensory overload of a new global generation of restless youth in modern global cities. Featuring a stellar fresh ensemble cast from 4 continents, hypnotic visuals and a electronic musical score by Henning Grambow mirroring the places they get lost in. TRAVEL BREAKERS is a raw energetic experience cutting loose forward and back between two stories happening far away on the globe to realize that there is one unify thing : As long as you stay moving you might bump into the person changing your life.
TRAVEL BREAKERS: DIDN'T KNOW YOU YESTERDAY - CAN'T LEAVE YOU TODAY.
'Travel Breakers' Clip from a scene filmed in Amsterdam.
'Travel Breakers' Clip from a scene filmed in Shanghai.